Ch. Perdita's A Parlay at H'gate HTs NS DJA JHDs VN
Best Puppy In Show
Canada's First Herding Titled Dalmatian
Ch. Perdita's A Parlay at H'gate HTs NS DJA JHDs VN
CH: Canadian Champion
HT: Herding Tested(Sheep)
JHD(s): Junior Herding Dog Sheep
NS: Novice Sprinter
DJA: Dock Junior Advanced
VN: Versatility Novice
+/+ BAER Tested
Penn Hip: 90 Percentile
Cardiac: Normal
CERF: Eyes Normal
BbEE Liver Factored, Lemon Free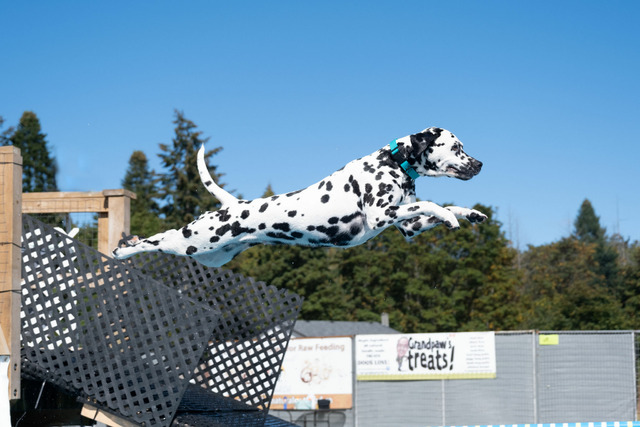 BPIS MBPIG CH PERDITA'S A PARLAY AT H'GATE HTs NS JD JHDs
SIZE: 22"
BAER Tested +/+ Full Hearing | BbEE (Liver Factored, Lemon Free)
PENN HIP 90 Percentile/OFA Good Prelim | CERF Normal | ADVANCED CARDIAC Normal | CHIC 129046|
Ayela is a lovely girl with pleasing expression, dark eye pigmentation. A very nice topline and underline with balanced angulation. Effortless, correct movement . Ayela is a joy to live with, very happy at all times, and if you are lucky she will smile at you if you have ever seen a dalmatian smile its the cutest ever.
Ayela has also started in Herding lessons something new for both of us to learn she has the natural instinct to herd I can not wait to see this little lady progress.
Ayela will be shown lighty in 2019, we are having far to much fun playing.
June 24, 2018 Ayela has now earned her Herding Tested Title on Sheep Canadian Kennel Club earning a HTs Herding Tested Sheep. CKC has verified that Ayela is the first Dalmatian in Canada to earn a Canadian Kennel Club Herding title!
March 31, 2018 Ayela Qualified as a Junior Herding Dog ( AHBA )
2017 #3 Dalmatian Puppy in Canada (Tied *Canuckdogs Dec 29-2017 Standings)
Win Record - 2021